Foundation specializes
in user interface products and product identification. We can assist you in the coordination of your design and product development. We are capable of providing unique and effective assemblies that meet your needs. Adherence to QS 9000 quality guidelines, 100% QC inspection and a record of near zero defects allow us the privilege of OEM supply relationships with many worldwide manufacturing companies. Foundation's engineering, design and manufacturing capabilities allow us to provide turnkey contract manufacturing service to outsource-oriented companies seeking the production of complete front panel assemblies -- from the development and production of customized electronic circuitry to the delivery of finished front panels in machined, cast or molded housings. We will have the integrated membrane switch assemblies or integrated membrane keypad assemblies that meet your exact specifications and application requirements.
The successful design
: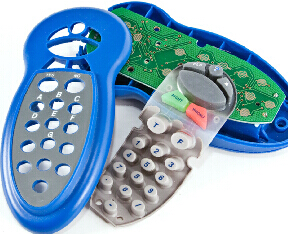 Here's our formula for success in designing effective, integrated membrane switch assemblies and integrated membrane keypad assemblies:

The earlier you call our design team into a project, the greater value you will gain from our expertise — we'll be able to create the most effective integrated solution for your application.
From the start, we focus on what you want to achieve with your integrated assemblies. This results in the best solutions possible.
As our customer, you'll be a critical part of our design team. Through teamwork, our customers and design team pool their strengths, experience and knowledge.
To this creative mix we add the partnerships we have established with trusted, proven component vendors. This opens up a broad selection of options, enabling us to make the best selections possible for your integrated assemblies.

2. More effective assemblies
3.
Less time to project completion
4.
Less design engineering required on your part
5.
Reduced administrative time when you work with just one vendor
7.
Less inventory to track
There is no limit to Foundation's capability to design and manufacture custom front panels. So why order a membrane switch from one vendor, a bezel from another and a touch screen, back panel and printed circuit board from yet others, and then hope you end up with the solution you need?
Please contact us today with you requirements.