The graphic overlay
is essentially a decorative faceplate made of PET, PETG, PC, and PVC, to which lettering, signs, and patterns are added. It provides the basic protection against the ingress of water, dust, and other harmful substances. Able to withstand wear, this covering layer is also easy to install. Good color fastness means its surface can be directly sanitized by water, petrol, or alcohol without washing out the beautiful pattern.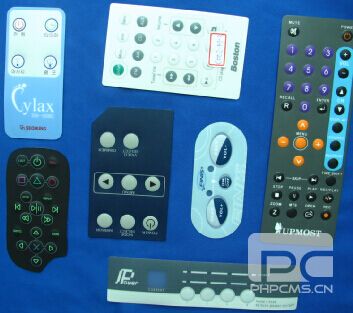 Our graphic overlay can be used separately or integrated into the membrane switch. It is quickly emerging as a new, ideal faceplate that overcomes the disadvantages of aluminum faceplate. Typical uses include the home appliances, meters, instruments, mechanical and electronic switch panels and more.

For all these years, we have been leading the way in the design, manufacture, and distribution of the custom membrane switch panel, control panel faceplate, touch-sensitive panel faceplate, and membrane switch. These bespoke services have become a core competency that we take pride in.
Graphic overlay is often the first thing users see when interacting with our equipment. It makes a powerful impression of our product. Hence, creating an effective faceplate and smooth user experience is the key to success. It requires close attention to details, including good color match and straightforward graphics.
Various materials can be selected to make this graphic overlay, including PETG, PET, and PVC. It all comes down to the application environment and specific needs of our customer. Important considerations include whether the product will be exposed to direct sunlight, or have opportunities to contact with chemicals or grime. Material cost should also be taken into account. All in all, PET and PC are two most commonly used materials.

PC is the abbreviation for the polycarbonate. It is easy to cut, print, and emboss. Sturdy and cost-effective, the material is resistant to various climate conditions.

Compared to PC, PET is a much thinner and more resilient material. Able to withstand corrosive chemicals, it will hold up longer than PC under harsh operating conditions. This material, however, is more expensive than PC.
Our range of custom graphic overlays includes:

1. Custom printing service
2. Glossy surface, sand grinding surface, wire-drawing surface
3. Multiple color combinations
4. 3D dumps, ball-shaped bump, diamond-shaped bump, and more
5. Back adhesive: 3M adhesive
6. High-quality, carved surface
7. High-strength surface
8. Waterproof, chemicals-resistant surface
9. Anti-UV surface